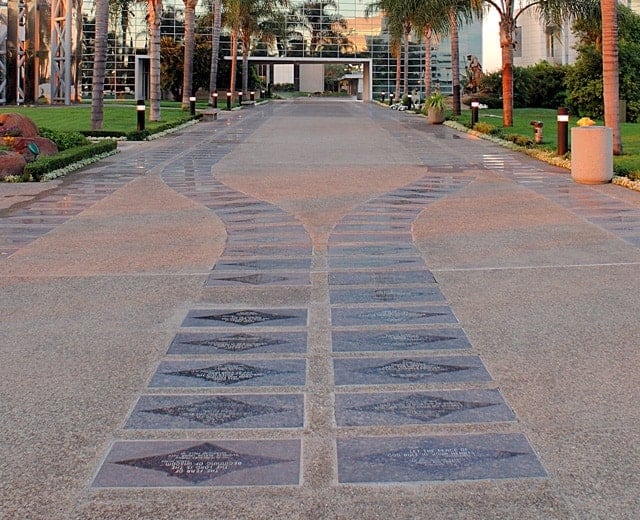 Donor pavers at Crystal Cathedral in Garden Grove, CA.
Donor pavers at St. John's Episcopal Church and School in Rancho Santa Margarita, CA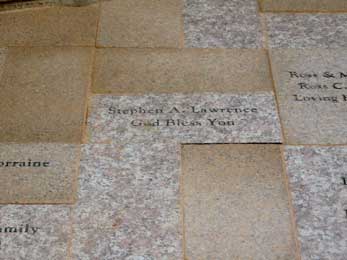 Granite pavers, located at Mission San Luis Rey Parish donor pavers in Oceanside, CA.
Fundraising with Engraved Concrete Pavers
Concrete pavers, like brick, are an efficient and versatile choice for donor recognition projects. Concrete pavers hold qualities that appeal to fundraisers and donors.
Engraved concrete pavers are:
Durable
Cost-efficient
An ideal choice for walkways and entryways
Available in many different colors and sizes
When you decide to launch your concrete paver fundraising project, we will work with you to:
Determine your budget*
Set appropriate donor levels*
Define design parameters
Select paver and lettering colors
Create a timeline
develop a rendering of the completed engraved concrete paver project
Unlimited lettering per paver
*Honor Life Recognition offers unlimited lettering per paver. This means two things. You'll know your costs upfront, and you'll be able to offer your donors personalization at no extra cost. Alternatively, you can create personalized and non-personalized donor levels. Since your costs are the same either way, adding a personalized level improves the overall effectiveness of your fundraising campaign.
Sandblasting for personalization and quality
Honor Life Recognition sandblasts engraved concrete pavers. The sandblasting process allows for detailed personalization and results in a higher quality finished product versus other engraving methods. Honor Life uses Rayzist Photomask, Inc. photo-resist film and equipment for the highest possible detail in our finished products.